Which Ice Pack is Best for Your Back?
With so many ice packs and cold wraps being sold online, it's easy to get lost in the search for the best product. Websites such as eBay and Amazon are offering thousands of products, all of which are making wild claims and ludicrous offers. So, which is the best product for your injured back? Below, a list of our reviews and tests of the products we found for back injuries, and the real ratings we think they should get.
One Size Fits All?
Everyone implies that their ice pack is superior, but are they really? It's confusing trying to find the right products for a "one size fits all" world. We have compiled a list of qualities that someone would generally look for in an ice pack to help with all of the confusion. Click here for a no-fail guide on what to look for in gel packs.
King Brand Back ColdCure Wrap
Comfortable and High Quality Wrap
$59.99 - $64.95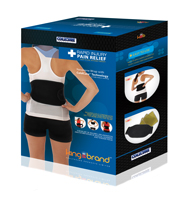 The wraps offered by King Brand had the best performance, quality and treatment by far. This 'ColdCure' Back Wrap was made from a very comfortable, neoprene fabric and offered complete coverage for any type of back injury. It came with multiple gel backs for a non-stop cold therapy treatment and each of the gels had exceptional cold capacity. The wrap itself seemed to be made from high quality materials and didn't feel like a burden to wear. it was hard finding any flaws in this product and the King Brand Wrap was well deserving of our first place award.
Wraps Offered At: kingbrand.com
King Brand Large Body ColdCure Wrap
Extreme Size for Extreme Cooling
$98.00 - $100.00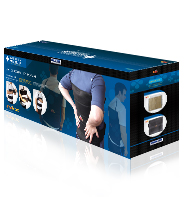 The King Brand 'ColdCure' Large Body Wrap is extreme in every way. Extreme size, extreme cooling, extreme compression and extreme coverage. Like the King Brand Back Wrap, the cold capacity of the gels in this product is very impressive, and the materials are comfortable and high quality. The very large size makes your back quickly feel relief. However, with greater size comes greater price, and the King Brand Large Body Wrap is by far the most expensive in our list. In many cases, it is worth considering spending a bit more on this wrap to get the extreme size and results that it guarantees.
Wraps Offered At: amazon.com
ACE Compress Back Wrap Cold/Hot
Reliable But Not Exceptional Performance
$15.46 - $27.65
The ACE Compress Back Wrap has decent performance, satisfied the most basic needs and didn't contain any significant flaws. However, the ACE Back Wrap didn't offer anything unique either, and the gel pack would easily slip out from its pocket. As a result, the compression and coverage of this wrap was not the strongest. The cold capacity is okay, but also not the best. To conclude, the ACE Back Wrap has very mediocre performance, making it an option to consider if you are concerned about price.
Wraps Offered At: amazon.com
Pro Ice Lumbar Low Back Wrap
Big Wrap, Tiny Treatment Area
$49.36 - $59.95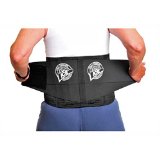 Don't be fooled by pictures of the wrap that will lead you to believe you're going to get lots of cold coverage. While the Pro Ice Lumbar Wrap is quite large, the ice inside the wrap only covers a disappointingly small area. It seems like such a waste of fabric to limit the ice itself to such a small portion of the wrap. This means that the affected area of your back will only receive a fraction of the cold treatment it needs. The wrap itself is comfortable and fits well. The small amount of cold that's provided also lasts long enough for a decent treatment. Ultimately, the small coverage zone is a huge deal breaker for the price.
Wraps Offered At: amazon.com
ColPac Black Polyurethane Wrap
Uncomfortable and Cheap Materials
$19.10 - $43.00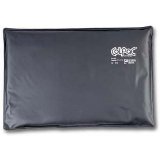 It is surprising to see the poor quality of this wrap, considering it is one of the most popular online products for back injuries. The gel was very basic and held cold for a minimal time. The wrap itself is very rigid and bumpy. Another annoyance with the ColPac was that the wrap was made from cheap plastic materials which 'sweated' as the wrap warmed up, making this wrap impossible to use directly on the skin. It appears this wrap is also prone to leaks. With after 4 uses, the bag had split open. All in all, this was a pretty cheap ice pack that did very little to impress.
Wraps Offered At: braceshop.com
Pro Series Ice Wrap - Lower Back
Bulky & Leaky
$34.99 - $49.99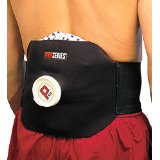 If you would like to recline or lie down during your treatments, this is not the product for you. It is extremely bulky and sticks pretty far out the back. It even makes sitting uncomfortable. The worst part about this product though was the leaking. It started leaking around the seal after only several uses. If you don't notice it leaking early on in treatment, it can lead to a huge mess. Unfortunately, nothing seems to work to fix the leaking problem. This product gets pretty cold, which is good. However, you need to wear a layer of clothing under it to avoid freezer burns on the skin. Use with caution!
Wraps Offered At: proseriesusa.com
Elasto-Gel Lumbar-Back Wrap
Gel Moves Around
$43.90 - $91.09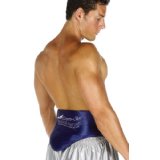 This wrap is definitely not worth the price. It only stays cold for a maximum of 15 minutes, and when it is cold, it's not nearly cold enough. While the wrap isn't uncomfortable, it's made of a satin-like material that the Velcro tends to catch on, causing the material to pull. It doesn't take many uses for this wrap to look like you've had it for years. The biggest negative though is the fact that the gel won't stay put. No matter what, it flows away from the injured area to other areas of the pack. As for the heat, it diminishes even faster than the cold, lasting only 10 minutes at a time.
Wraps Offered At: icewraps.com
Comfort Gel Pack (10x15 Size)
Low Quality Gel Prone to Leaks
$10.15 - $11.95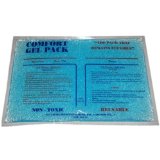 Though the low price and large coverage area may make this ice pack look appealing, there are many problems in this product that do not make the purchase worth the hassle. One of the largest flaws with this ice pack is it's tendency to tear and spring a leak. The film around the gel is very thin and easy to rip or tear. The internet is filled with reviews talking about how this gel pack began leaking within days of the purchase. In addition to this, the pack is very stiff and uncomfortable to use when frozen. This product is not with purchasing for any price until those flaws are resolved. It is a great BETA attempt, and look forward to seeing the next rendition for lots of improvements.
Wraps Offered At: amazon.com
Where to Buy
The above mentioned wraps are available in many places. Some popular sites that carry many different ice packs for your back injury needs are Amazon, eBay and Walmart. Also some of the wraps companies had their own websites for their products such as theKing Brand Products. Unfortunately, we could not find an back ice pack at Walgreens and did not find any Target ice packs.
Related Forum Content from the makers of the BFST→
You might be asking yourself who is King Brand, and why is their forum content so important. Well, here's why! King Brand takes pride in knowing that their products will help heal people, and they aren't afraid to show it. Their commitment to helping people heal naturally, is the pillar in which the company has grown on.
The term BFST stands for Blood Flow Stimulation Therapy and it was created by King Brand Health Care. Blood flow is very important to help heal injuries, and after years of research and development they have come up with a product that does just what it says. No other company can match what King Brand does. They are the only company on the market that can directly target injuries at a cellular level with no surgery or doctors visits needed. Of course it's important to visit the doctor when you've injured yourself, but their treatment modalities can be done in the comfort of your own home.
The King Brand forum is a great place to research specific ailments and to figure out whether or not the BFST and ColdCure products can help. Their treatment advisors are constantly posting on forums to help educate people on how to heal their injuries. If you can't find the answer you're looking for, then feel free to take part in their forum by registering.
Just below, is a prime example of the quality customer service that King Brand provides on a daily basis. This is the perfect online community that will help educate, heal and get you back on your feet in no time.
→

Click here for the the full King Brand® Forum Experience
large body wraps (back)
Hey KB!
My mom has been having problems with her back like mid back, and I told her we should get the large body wrap to help heal her (judging by how your KB BFST wristwrap product has helped my wrist). We were disheartened to see the large body wraps out of stock on your site. When will you have them in? and can we just use the back wrap instead-she has a midback issue and I was hoping to get her feeling better ASAP. Is there any way we could buy the lower back wrap for now, and then exchange it for the larger body wrap in the future when it is in stock? Do you think the regular back wrap could be sufficient? maybe she can treat her midback twice a day and then treat the lower back seperately twice a day with the smaller back BFST--would that work?

Please let me know
Thanks for your time, customer service and wonderful products
Tony (KB BFST wrist user)
Re: large body wraps (back)
Hello Tony, Sorry to hear your mom is having back troubles. We are expecting the redeveloped large body wraps to be available around September time. However in the meantime we do recommend the Back/Hip Wrap. They are versatile, can be placed anywhere around the back, hip, or even arm or leg if required. Our 30 day return policy won't allow you to have an exchange for the large body wrap unfortunately. If you have any other questions please don't hesitate to ask. We wish your mum well with her recovery. Kind regards, Helen
Re: large body wraps (back)
OK--thanks Helen--
would you recommend we get the accessory strap as well?--want to make sure she has a perfect fit when wearing it for maximum effect--and she should wear it UNDER clothes, correct? just making sure--I use my BFST wristwrap under clothes--on just my bare skin, just wanted to make sure it's the same for the back--I imagine so, just checking.

Thanks again
Tony
Re: large body wraps (back)
Hi Tony,

Depending on her girth you may choose to buy the accessory straps - they are not included with the back/hip wraps. And yes, on bare skin is fine :)
→

Click here to enter the King Brand® Forum
Additional Reading and Links
Copyright 2011-2017 King Brand Healthcare Products® Limited. All Rights Reserved.
Meniscus Injury Treatment,
Muscle Injury Treatment,
Neck Injury Treatment,
Plantar Fasciitis Injury Treatment,
Shoulder Injury Treatment,
Tendon Injury Treatment,
Wrist Injury Treatment,
BFST Wraps,
Blood Flow Stimulation Medical Devices,
Blood Flow Stimulation Therapy,
Blood Flow Stimulation Wraps,
LCL Injury Treatment,
MCL Injury Treatment,
ACL Injury Treatment,
PCL Injury Treatment.
Copyright 2011-2014 King Brand Healthcare Products® Limited. All Rights Reserved. King Brand
®
ColdCure
®
Cold Therapy ice packs and gels are the best solution to your back soft tissue injury. King Brand
®
ColdCure
®
RigiGel
®
Back Wraps hold the cold longer, stay in place and are safer than any other product. Treat your back pain with King Brand
®
for the best results.